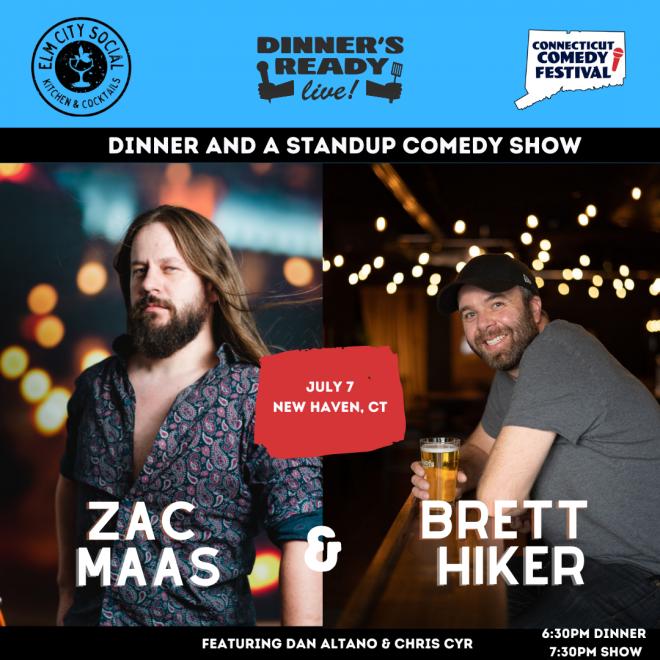 Thursday July 7th, 2022 - 7:30PM
Dinner's Ready Live at Elm City Social
Elm City Social 266 College Street (at Chapel Street) , New Haven, CT
Join us for a night of great dinner, drinks, and stand up comedy outdoors on the beautiful rooftop at Elm City Social in New Haven, CT. Your ticket includes a signature entree and a night of comedy from nationally-touring acts. Dinner begins at 6:30pm and the show begins 7:30pm.
Meet Your Co-Headliners: Zac Maas & Brett Hiker
Zac Maas was born in Deadwood (yes, that one), South Dakota, and grew up in the Black Hills. An international headliner, from Mexico to Alaska, a writer, filmmaker, and actor, he calls Denver home. In November 2019, he was on Spaghetti High on Adult Swim. He is a regular at The World Famous Comedy Works, and in 2018 Thrillist called him one of the 50 best-undiscovered comedians in the country. Check out a clip here: https://youtu.be/Ilt2cSGpY04
Brett Hiker was a regular guy until ten years ago when he was bitten by a stray comedian. Since, Hiker has spent the last decade telling jokes in theaters, clubs, and music venues across North America. Hiker's stand-up made its TV debut in 2011 on the After After Party) and has since had his comedy featured on Fox, the CW, and Comcast. He is an avid fan of dive bars, legos, large snowstorms, carharts, whiffle ball, Toaster Strudels, silly hats, drinking in public, vintage hockey teams, pillow forts, day drinking, breakfast food, and nothing else. Although Brett was raised by a pack of mountain folk in Colorado, he now lives and tells jokes in NYC where against his will he gets meaner and funnier by the day. Check out Brett in action: https://youtu.be/lWR_dWWdhlc
This show also features Dan Altano and Chris Cyr.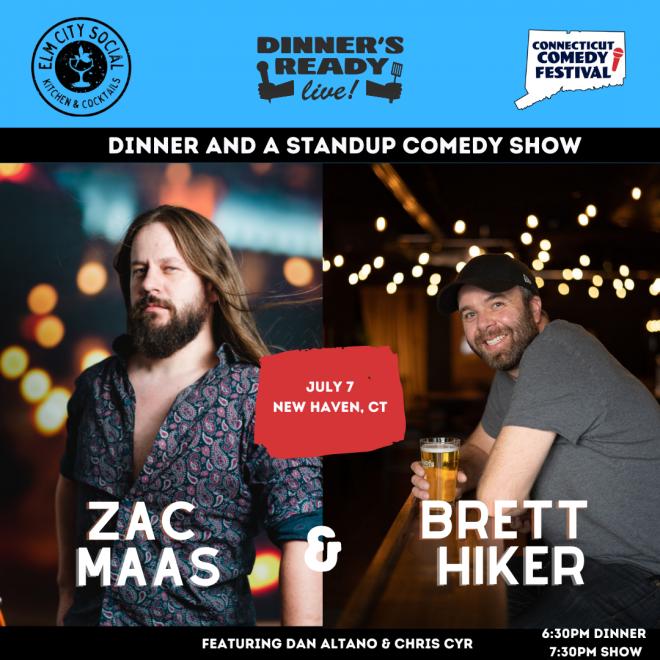 Featuring..
$35.00
Tickets
Requirements :
No refunds or exchanges.
Individual comedian appearances subject to change without notice.
State Tax (6.35%) additional
ALL SALES ARE FINAL